Most wanted

After months of toiling, sweating, panicking, pondering, mass debating, we've only gone and done it. The first ever issue of The Fighting Cock fanzine is nearly here. So we haven't actually gone and done it but we're close. So close that you can now pre-order it. And only those that pre-order will get two exclusive stickers. Stickers... it's like being eight years old once again: Tottenham, adhesive pictures, and the illusion of eternal youth.
Featuring interviews with Gary Mabbutt and Stand AMF editor Seb White, regressions into Europeans trips of years long since gone, understanding Ricardo Moniz, the ancestry of infamous 'Because of Boxing Day' chant, and, obviously, loads more all painstakingly displayed in 40 glorious rough touch 'natural feel' pages.
Everything we earn out of the sale of the fanzine goes back into running The Fighting Cock podcast, maintaining the website, and the continuation of stuff like the 1882 movement.
Cheers,
The Fighting Cock Team
ISSUE ONE (HARD COPY)
£3.50 + p&p
Pre-order - expected shipping date 30th April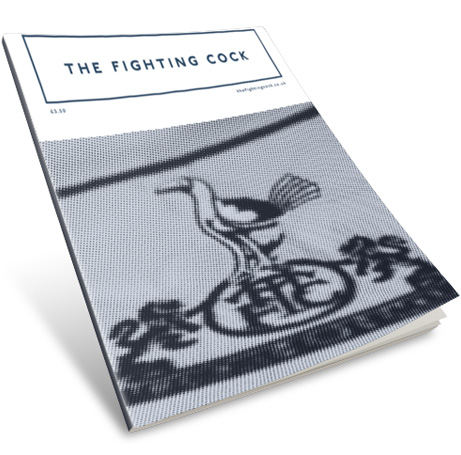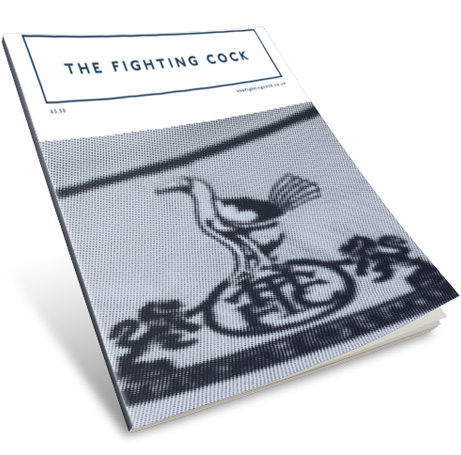 Get The Fighting Cock fanzine - everything we're about painstakingly displayed in 40 glorious pages of Tottenham sex.

Textured rough touch 'natural feel' on thick paper
Full colour throughout
Content remains positive forever no matter how sh*t we get
Free 1882 and The Fighting Cock stickers with the first few orders (limited stock)

Highlights of Issue One
Mark Butcher (@lustdoctor) on loving Spurs (and football's Eurotrip)
Youth supremo Windy on Tottenham Academy starting to reap benefit from 2005 overhaul
Raj Bains spends an afternoon with super Gary Mabbutt
Spooky on the virtual landscape of the football fan
ZoC harks back to yesteryear to uncover the origins of the famous chant